I spent last weekend at Papa's house in Kansas (more on that in another post to come). It was too darn hot to work on any projects around the property, so we had a lot of family time inside. It was great. The best part was, it gave me a chance to catch up and get some work done on my Tea Towel Challenge.
Before this weekend I'd finished 8 towels (all linked below). Surprisingly enough, I was able to make THREE, count them, one, two, THREE tea towels this weekend. Yes, I am a stitching rock star.
I made another duckie.
This one is a crafty duck.
Yes, I'm obsessed with the crazy duckies.
Then I made a cupcake couple on two more towels.
Pretty cute, right?
Time to use my awesome
coffee table light box trick
and trace some more patterns. I'm up to 11 towels completed. How many more can I finish by the end of the month?!
If you missed any of the previous tea towel posts, you can find them here: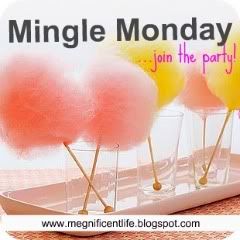 And Kristi with Mop it up Monday