So What! Wednesday's in the house! (Yes, I've been listening to more rap lately.) It's time to link-up with Shannon @
Life After I Dew
for So What! Wednesday.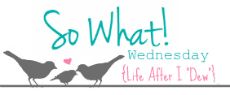 Here are the things I'm saying So What! to this week.
So what...
if I've not watered my lawn, not because of environmental reasons, but because I know if I water then I'll have to mow more often.

if I'm super excited for my Auntie/Nephew date afternoon Thursday that will most likely involve sprinkler time in the back yard. I'm taking Grant so Chris can have a kid free afternoon on his birthday.

if my cat, Luna, knows she needs to show affection before I'll play fetch with her. She's an affection whore of the trampiest kind.

if I'm counting down the days until Big Brother (2 days) and the Olympics (17 days) start.

if I'm thrilled the weather forecast tops out in the mid-90's all week!

if coloring my hair turned out redder than I was expecting. I'm talking crayon red, not

Lucille

Ball copper red. Thank goodness reds fade fast!
What are you saying So What! to this week?
If you're not a follower yet, you should start following now so you can be in the loop for my first giveaway at the end of the month! If you're already a follower, THANK YOU!