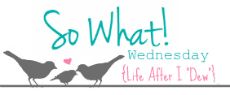 This is what I'm saying So What! to this week!
So what if...
** I'm excited Papa's coming into town. As usual, the itinerary was a bit of a surprise so I spent all of last night doing food prep and baking a super special desert (check back later for the recipe review).
** I cried during Master Chef last night. There's no crying in the kitchen, but you can cry watching a kitchen, right? First you get a smile from having Paula Deen on the show, but then come the tears when they got letters from home. I'm such a sap.
** I can't ever remember when to take the trash to the curb now that we have a new trash schedule.
** I surprised my own self this week by posting a pic of myself in a bathing suit (here) and a picture of my bead head (here). What was I thinking? Oh yeah. Humor clearly ranks high above pride in my world.
** I'm still not sure about how I rearranged my furniture in the living room. I'm trying to live with it for a while to see if it grows on me.
** I redid the design of my blog four times in one night before settling on this one. What do you think?
** I'm so excited to have 51 followers! Eeeeee! Thank you all so much. Feel free to join in the fun because all the other kids are doing it and you want to be just like them.
Be sure to check out today's other post, Oh, How Pinteresting, and then hop on over to Shannon at Life After I Dew to see all the other So What! link-ups.