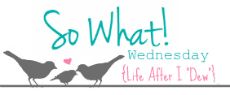 These are the things I'm saying So What! to this week.
So what if...
** I'm glad it's Wednesday, but I'd be gladder if it was Friday.
** My entire menu plan for the week consists of PB&J's or cold cereal. This girl does NOT want to turn her oven on during this heat spell.
** My cats lay on their backs in front of the fan with their legs spread eagle to stay cool. Whores, I tell ya.
The fan sits just to the right of her. You go, Lili!
** I sleep diagonally on a bed, no matter the size, no matter the number of occupants.
** I have anxiety over the fact that my DVR is full because I was out of town last weekend. I can't keep up with the trashy tv demand!
** All I want to do this weekend is lounge on the couch, a/c cranking, embroidering and watching tv. It's productive if I'm working on embroidery, right?
** I'm so very very excited for the Olympics to start Friday! USA! USA!
** I'm loving the drama on Big Brother so far this season. I love a good shake up.
What are you saying So What! to this week? Hop on over to Shannon's blog, LAID, and share.
Check out today's other post, Oh, How Pinteresting.