You all know I love a good challenge...May: Pinterest, June: Recipes, July: Tea Towels. Wondering what was going on for August? Well, wait no further.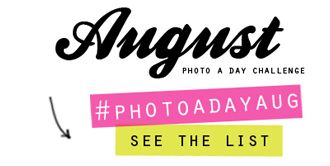 I've decided to try Fat Mum Slim's photo a day challenge. I know, I know. I'm late to the game. All the cool kids already do her challenges. Not this kid. It's my first go at it so sit back and enjoy the ride.
Here is the list for August:
I've done days 1-8 so far and I'm pretty darn proud of myself for making it this far without forgetting a day. Here are the pics so far.
This is the monkey grass in my front yard.
I'm determined to keep it alive in this drought.
I also took another "outside" picture on day one. These are the evil little spiky
balls that fall from the trees in the front yard. I say they're evil because HURT
when you step on one and they never get soft or crumble. I'd call them devil balls,
but that may be taken wrong, but then again, that could be true too.
"One" sweet little girl waiting to be snuggled at bedtime.
"Coin" found at the bottom of my desk drawer.
This was the bar stool I sat on at Baker's Street Pub in Tulsa, OK.
I also sat in there at Baker's Street Pub.
This has to be one of the best "logos" ever of all time ever.
Don't you love now neat and organized I am when I "write" my
to-do lists on my post-it notes? I'm a fancy pants like that.
"8 o'clock" was really 8:03 which was really me still in my car and
not actually at my desk where I was supposed to be by then. Oops!
How appropriate was it that one of the prompts be "glasses" considering
I just made some "Redneck Martini GLASSES" last weekend?!
I'm going to try and be better about using the camera I borrowed from Sis instead of using my phone, but, hey, at least I'm doing them, right?
Have you ever done one of the photo challenges? Have you stuck with them?