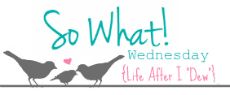 Oh, peaches and cream, I really wished
today was Friday, but it's not.
Here are my So Whats! for the week.
So what if...
** It's Wednesday and I don't want to go to work or class.
** My microeconomics professor is from China and on the first day he finished reviewing the syllabus with us by saying "I hope by the end of the semester we can all have a happy ending." It took everything I had not to burst into laughter right there in the front row. I thought that only happened with massages!
** I felt horribly guilty when I woke up this morning and found my cat, Luna, locked in the closet all night. Poor, lil monkey!
** I've been watching the new show The Week the Women Went on Lifetime.
** I cried when Monte had to leave on Master Chef last night. Yes, I cried during a reality tv show. Don't judge.
** (Another reality moment) I'm so excited that The Great Food Truck Race is back on Foodnetwork!
What are you saying So What! to this week?