It's hump day! Who are you hump...wait...that means something different. How's your Wednesday shaping up?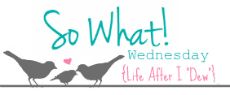 This is what I'm saying So What! to this week.
So what if...
** I bought this spiral notebook for one of my fall classes. I couldn't pass it up.
** I did a little dance at my desk when I got the email that my wait was over with Birchbox. I get my first box later this month!
** I was giddy that Sally, at Splash of Whine, blogged about lil ol' me and my lil ol' blog. Made my day.
** I'm fine with fall semester starting work-wise, but I don't want it to start class-wise because I don't want to deal with homework and crap. (Can you sense the enthusiasm?)
** I don't want my cat, Larry, to turn 11 this week. He's turning into an old man cat with grey hair on his tail and everything.
** I'm still using the heat as an excuse to live on cereal so I don't have to cook.
** I'm excited that people have started entering my very first giveaway ever.
(Not just a shameless plug, I really am excited.)
** I don't want the Olympics to end because I love looking at all the beautiful men!
What are you saying So What! to this week? Hop on over to see the other So What's with Shannon at LAID.
Be sure to check out today's other post, Oh, How Pinteresting.