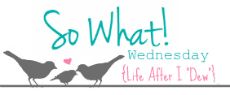 Hello, Hump Day! Let's get this party started. So What! if...
** I'm super proud of myself for all that I accomplished over Labor Day weekend:
Organized my closet
Did all my laundry (including putting it away)
Washed all the bedding in the house
Swept, mopped and waxed the floors
Did all the dishes
Cleaned out the fridge
Went bra shopping (couldn't have survived that without Sis)
Yard work (couldn't have finished without Bill)
Paid my bills
Started taking down the pool
Took a nap or two
Gave myself an impromptu manicure
Changed my own brake light
Watched an entire season of Pretty Little Liars
Started Halloween wreaths
** I didn't do a damn thing to my hair yesterday or get out of my jammers even though I did a lot of what's on the above list.
** Between yard work and trying on a bazillion bras all in the same morning I thought I might not be able to lift my arms the next day.
** I wish I'd added another day to the long weekend so I could have had a 5 day weekend and still be in my jammers right now and not at work. Blah.
** I painted football stitches on two of my fingers to celebrate the start of football season even though I don't get the whole painting one odd finger thing. (More on the polish color in a later post.)
** I hope my neighbor starts taking her pool down soon so there's no risk of a bikini sighting again. Ugh.